How We're Different:
If you believe in excellent medical care with personal attention provided by an experienced and world renowned surgeon and his caring staff, you have found the right clinic! Our goal is to give personalized, top quality medical care to each and every patient. Unlike other clinics, we do not overbook our schedule for office visits or surgeries. PATIENTS ARE NOT JUST A NUMBER TO US. WE STRONGLY BELIEVE THAT EACH AND EVERY PATIENT DESERVES PROPER TIME AND CARE... [more]

tel:510.792.2911 fax:510.794.7924
Toll Free:877.463.5942
ACD Testimonials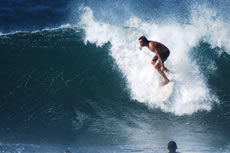 Patient Mark Price, back at what he loves to do after ACD surgery peformed by Dr. Schiffer. The patients in the Testimonials list below have had the same procedure as Mark Price pictured in the photo above.


January 10, 2002
To Whom It May Concern:
Before my operation I was having numbness of the right arm and hand, and pain in the upper neck and shoulder region due to a blow to the head that I suffered at work with a metal bar that crushed my fifth and sixth vertebrae together and caused all kinds of problems to my right side. I came in and saw Doctor Schiffer, went through the surgical procedure of having the disc removed and the bone spurs ground off, which was a pleasant experience. I had no problems. The surgery went fine. I woke up feeling great. Two days later I quit taking pain medication because I was feeling pretty good and I haven't taken anything since. I have been through physical therapy, breezing right through that. I have not had the numbness or pain that I experienced beforehand. The only pain now is just muscle pain - sore muscles because I haven't done anything for the last year. Up to now, everything has been fine and I am looking forward to going back to work. To sum it up, I had pain before surgery and nothing afterwards - I'm feeling good!

*I hereby give my permission for Doctor Schiffer to print my testimonial on his web site.