ACD Testimonials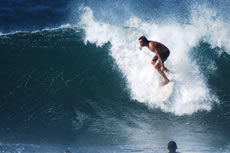 Patient Mark Price, back at what he loves to do after ACD surgery peformed by Dr. Schiffer. The patients in the Testimonials list below have had the same procedure as Mark Price pictured in the photo above.


February 5, 2004
From: Billie Thomas

To: Dr. Stanton Schiffer
I would like to thank Dr. Schiffer for the wonderful results I have received from the surgery that he performed on me, January 14, 2003. It was an Anterior Cervical Discectomy at C5-6 and C6-7. Everyone associated with my treatment, including Dr. Schiffer's staff and the Blackhawk Surgery Center, treated me very well.
I injured my neck, on the job, in January of 1999. Neither Medical Doctors nor Chiropractors could alleviate my symptoms, which included severe pain in my neck, left shoulder, arm, and hand, numbness in fingers, and muscle spasms. I had difficulty sleeping, working, and performing most routine daily activities and riding in an automobile greatly aggravated the symptoms.
I did not want to undergo the more traditional surgical procedure that involved fusion of the disks so I had almost resigned myself to a life of symptoms described above. In May of 2002, my husband found Dr. Schiffer's Website and the procedures seemed too good to be true.
I entered the medical center one morning and went home the next morning. After the surgery, I have experienced great results, which have totally eliminated the pain, numbness and spasms.
Once again, thank you Dr. Schiffer, and if anyone would like to talk with me about my surgery, please feel free to refer them to me..

Billie Thomas
Carson, City, Nevada